Top 6 Bachelorette Weekends of 2016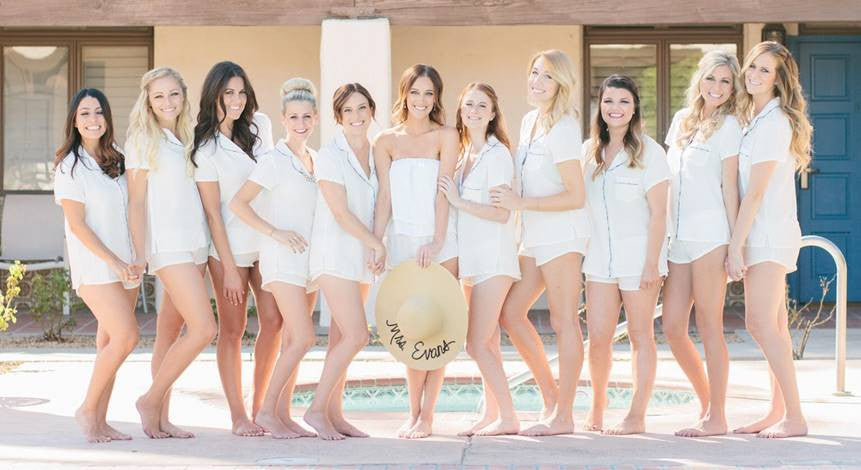 When you hear "bachelorette weekend" you may be thinking of a pool bar in Vegas and sipping your Vodka Soda from an illuminated penis straw in a cup so large you question if they served you the entire bottle. Half naked men lounging poolside all around you, dancing next to a DJ who is spinning tracks you've never heard of, all while taking in the scenery of palm trees, bikinis, and drama. While this is a great option for some, we'd like to introduce you to a few of the more unconventional bachelorette weekends that are definitely worth remembering.
GLAMPING/WINE TOUR – NAPA VALLEY, CA
Did you ever hear of such a wonderful thing? As we all know, glamping is the new camping and we want to be enjoying it with a glass of wine in hand! We recommend Pope Valley Vineyards for the perfect bachelorette weekend where you will sip wine amidst the Sangiovese and Merlot vineyards at the northern edge of Napa Valley. Wine down, if you will, inside luxury safari glamping tents that are positioned throughout the vineyard with gorgeous views of grapes and the California mountain scape.
Get ready for a personal chef experience, wine tastings, mountain hikes, truffle hunting (who doesn't love a good truffle?) and live music around evening campfires toasting tasty smores.
Be sure to order your custom fashion hat from BORN + MADE - it pairs perfectly with an elegant glamping weekend for you and your girls!
WELLNESS RETREAT – AUSTIN, TX
While this is a bit unconventional, it is the perfect weekend getaway for the adventurous bride! With your BORN + MADE weekend tote in hand, you can jet off to Austin, Texas for some much needed relaxation. Nestled amongst beautiful Texan trees, stunning lakes, and gourmet cuisine, is Lake Austin Spa & Resort where your bachelorette weekend just got peaceful.
Here, you will have the opportunity to explore the beautiful lakeside with hikes, sunrise yoga classes, and health focused culinary experiences.
While we all need a little R&R sometimes, there may be some of you who want to escape the serene atmosphere and experience something a bit more lively. We recommend heading down to East 6th Street where you can dive into some good eats at Parkside and then hop over to Pete's Dueling Piano Bar for nightly entertainment of live music and cocktails!
If you want to venture a bit further from the East side, we recommend the bars on West 6th between San Antonio Street and West Avenue, or the spots on Rainey Street.
BOAT CRUISE – NEW YORK HARBOR, NY
While this option may seem a little "been there, done that", you can really make this a bachelorette weekend to remember! Sail Away NY offers you and your group a private charter at sunset where you will begin sailing by the Statue of Liberty and into the New York Harbor. Heading up the East River and under the Brooklyn Bridge, ending your experience sailing around the tip of Manhattan up the Hudson River all with champagne in hand!
After you venture off the sunset cruise at Pier 25, we recommend the TriBeca hot spot, Locanda Verde, for a great dining experience and even better social vibe!
If you're in the mood to travel the city streets, we recommend the historic Meatpacking District which offers a lot of nightly options – between the signature bachelorette picks of Bagatelle, TAO, and Buddakan all the way to the rooftop bars at The Standard and Dream Hotel, your bachelorette evening just got very New York City chic.
UNIQUE EVENING EXPERIENCE – LAS VEGAS, NV
Yes, we know… Vegas is so cliché when we're talking about a Bachelorette party. BUT, it doesn't have to be! We researched a couple of the more unique dinner and entertainment options for you and your girls to experience while living it up in Sin City.
If you want to plan your meal on the strip and have an authentic Vegas night out, make sure you hit up Mon Ami Gabi – they offer amazing French cuisine and even better wine. Be sure to request a table outside as you'll feel like your dining in the heart of the Vegas strip with a front row seat to all the people watching your heart desires.
For those of you who want to go to Vegas but not feel like you're actually in Vegas, we recommend checking out some of the new bars popping up downtown like Don't Tell Mama. This unusual piano bar is where you and your girls can take part in their nightly open mic events, full bar, and great atmosphere. Be sure to call ahead and reserve a table as this bar gets pretty crowded!
COUNTRY MUSIC – NASHVILLE, TN
This is definitely for all you country-loving brides! Nashville is rooted in its deep music history, southern cooking, and tasty whisky's…the recipe of any good bachelorette weekend! We researched a few of Nashville's most authentic country music clubs for you to check out on your weekend getaway and don't worry, there's no dress code, so be sure to get your girls the BORN + MADE custom bride/bachelorette tanks to make the weekend even more memorable!
Start your night at Layla's Bluegrass Inn located on Broadway. A stone's throw from Honky Tonk Row (yes you heard us correctly), there's a large storefront window where you can see musicians for miles. Surrounded by license plates from all over the country, we hear this is a popular watering hole amongst local Nashvillians so you can assume that the music is going to be top notch and the atmosphere on par with an authentic Nashville experience.
After sipping on cocktails and diving into corn nuggets and pickle chips, we recommend walking over to Honky Tonk Row and ending your night at Tootsie's Orchid Bar. Surrounded by the "Wall of Fame," filled with pictures of country music legends like George Strait and Willie Nelson, you can sip on your Bushwacker while taking in the best live country music in Nashville!
AMAZING CUISINE – MIAMI, FL
Ahhh…Miami. The perfect weekend getaway for relaxation, amazing cocktails, and unforgettable dining experiences.
If you're looking for a great place to go and be a part of the scene in South Beach, we recommend Prime Italian - it has the vibe of Prime 112 but offers more family style sharing options and is perfect for a group of bachelorettes…especially those dressed to the nines with their custom clutches by BORN + MADE.
If you want to get away from the scene on Collins Avenue or Ocean Drive, we recommend Yardbird on 16th street and Lenox Avenue. This trendy restaurant offers amazing Southern cuisine and is incredibly popular and affordable for everyone in your group!
So all you bachelorettes out there…go grab your girls, your custom hats, and your Advil and check out some of these amazing bachelorette weekend getaway ideas!
Cheers!
BORN + MADE