Our Guide to the Best Holiday Gifts of the Season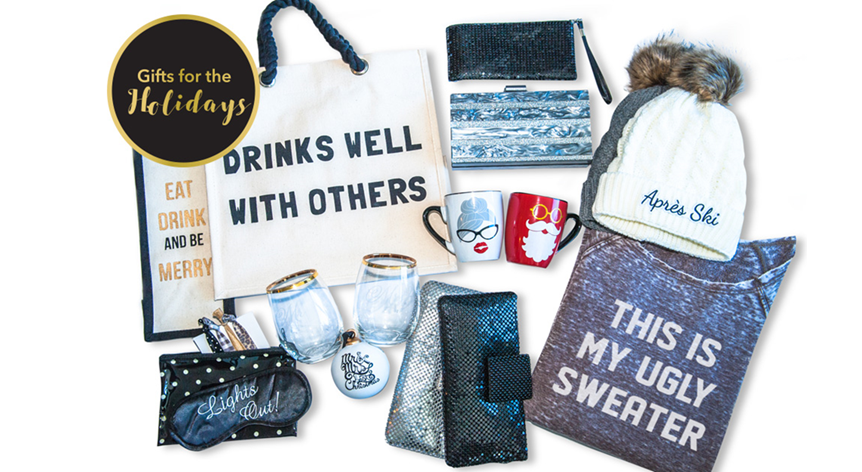 We know how stressful it can be for all you gift givers out there to decide on the perfect present for everyone on your list. Never fear...BORN + MADE has created five gift guides to get you through the Holiday season, all while helping you become known as the best gift giver around town!
GIFTS FOR HER
Let us help you find the perfect gift for the girl who has everything.
Custom Fashion Hat
What could be better than a personalized gift? Our custom fashion hats are the perfect gift for those who love lying on the beach or walking the chic streets of New York City. This hat is the perfect add to any outfit.
Fashion Clutches
It is said that shoes are a girls best friend…we beg to differ. These fashion clutches are perfect for dressing up any outfit. Worn with jeans, dresses, or even yoga pants, you will see heads turn…although if you're wearing yoga pants, it may not be a good head turn ;) Make it extra special by adding a custom name in Swarovski crystals!
GIFT FOR THE HOSTESS
Never attend a Holiday party, or any party for that matter, empty handed. Hostess gifts don't need to be extravagant but you definitely need to show some love. BORN + MADE has come up with a few ideas to get you invited back every year!
Wine Bags
While many attend a gathering with wine in hand, sometimes people forget how important the packing of the wine actually is! With these 6 bottle wine bags, not only will you be a super hero for bringing 6 bottles of wine, but these bags can also be used for years to come for any event that your hosts may have...including one at your house! The gift that keeps on giving, as we like to say…
Custom Pillows
While many of you may be thinking, "I don't know if this color will go with their décor," don't worry! BORN + MADE has made it easy to aovid that issue by offering neutral fabric tones to match any design. You will be the talk of the town with this personalized gift for your closest friends this Holiday season.
GIFTS FOR TRAVEL
We all have those people on our list who are difficult to buy for...the ones who are jetsetting across the globe in style and who seem to have just about everything they might need. Well…have no fear! Perhaps getting them something to make their travel experience more luxurious could be just what they've always wanted.
Tote Bag
This black vinyl tote bag is the perfect gift for all of the globetrotters on your list! It's the perfect size for your passport, laptop, and...as many celebrity gossip magazines as you can fit.
Travel Journals
Travel journals are a great gift straight from the heart. Not only are you offering a creative outlet for friends and family to document all of their amazing adventures, but you are also giving them a piece of their trip to take home with them to treasure forever.  Who are we kidding, we just think they're fun...and pretty!
GIFTS FOR THE HOLIDAYS
Sometimes we all need something special to get us into the Holiday spirit and to cure the headache that comes with it! We've come up with a few options to keep your Holiday mojo going!
Oh Shit/Hangover Kits
Need we say more? BORN + MADE's hangover kits are perfect and appropriate for everyone on your list. After those 6 bottles of wine back at that Holiday party, you'll be thanking us well into the New Year!
Holiday Mugs
When we think of the Holiday season, we picture ourselves bundled in a blanket, sipping hot cocoa from an adorable "His & Her" mug, and watching Home Alone 2. Alright, alright, it's wine we're drinking, but it's still a nice thought!
GIFTS UNDER $50
This is the guide for everyone who may not want to spend too much this year...or these are the gifts for the people you don't like…just kidding!
Winter Hats
These stylish winter hats are sure to keep you warm this holiday season. Whether you're skiing down the slopes in Aspen, or walking through Central Park, you will definitely be both chic and cozy. "Après Ski" not really your style? No worries, we are coming out with "Mrs.", "J'adore", and "Snow Bunny" sayings in the next few weeks. If these saying hats aren't what you're looking for, we also offer them without patches!
Jewelry Box
Guys… ladies like pretty things. These glass jewelry boxes are a great add to that diamond tennis bracelet you already bought her…hint hint, nudge nudge.
Happy Shopping!
XOXO,
BORN + MADE